Actions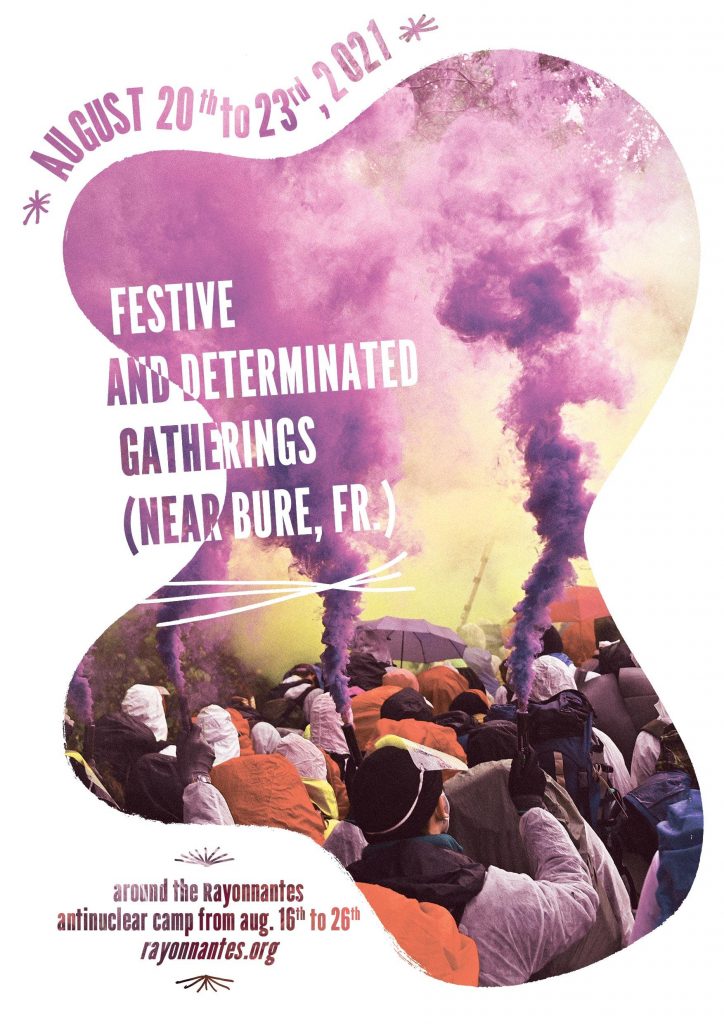 We relay a call to action that will take place at the same time as The Rayonnantes camp and on the same territory published on Nantes Indymedia .
Why relay this call?
Fighting against nuclear…it's something ! Today, nuclear depends on a multitude of persons and structures that have no interest in seeing it stopped : private or public companies, elected officials, international traders…
To oppose it, it seems necessary to us to use several means of action
The Rayonnantes have been designed to welcome proposals : whether it be workshops or actions, we can't organise everything, besides, self-organizing is the futureon ne peut pas tout organis.
So we are building a camp, but we are also super happy to come out and make our voices heard in a different way.
Text of intentions

Festive and determined gatherings from Friday 20 to Monday 23 August 2021 near Bure on the fringe of the Les Rayonnantes camp

"We wish here to bring some precisions, clarify our intentions and give a general direction to these collective moments.

We are people from different contexts of the anti-nuclear movement who came together some time ago to plan a common action of resistance against the CIGEO project in Meuse for the summer of 2021. As the Rayonnantes camp will last 10 days, we will take advantage of the weekend to converge en masse and make a front against the neo-colonial, military and capitalist nuclear industry, embodied in Meuse by the radioactive waste burial project.

Why

So that Cigéo is not built: so that there will never be underground tunnels full of radioactive waste, wagons going down into the ground for several kilometers, thousands of trains and trucks loaded with nuclear waste! In this region that has been sidelined, socially and economically, the villages will not be deserted. We refuse to let Andra buy them, nuclearize them and make life impossible. ANDRA will never feel at home here.

These few days of mobilization are part of a longer process. They are an invitation to build momentum, to look for ways to stop this project and to experiment with new forms of collective mobilization.

For whom

We wish to allow a maximum of different people to participate in these collective moments. This aims to encourage the social diversity of the participants as well as their practical possibilities and desires: "Welcome!" to families, to inhabitants, to peasants, to young and old activists, to novices as well as to experienced ones, to people who can run and walk and to those who cannot, to people who speak French and to those who speak other languages and to many others! We can't promise comfort for everyone. But we try to organize moments of preparation and training, reassuring spaces, systems of direct interpreting as much as possible, certain routes that can be driven, spaces in chosen mixity…

We want to make sure that these actions and their preparation are moments and places in their own right to fight against systems of oppression: patriarchy, racism and colonialism, cis-heteronormativity, validism, classism… [1]. It won't be perfect, but we want to give it a strong collective attention.

Finally, we wish and do everything to concretely implement actions based on the diversity of the modes of action. The history of struggles – and in particular that of the local struggle around Bure – has shown how the tactics of different political cultures can reinforce each other and reach their common opponents when they link, complement and reinforce each other.

How

This complementarity of tactics will be expressed throughout the four days. Several common highlights will take place. Different corteges, festive and determined, will set off on the territory in a complementary way. Some of these processions will be organized beforehand. Each of them will have decided on a specific approach and intentions. All of this will be presented during the camp so that each person can choose according to his or her desires, affinities and possibilities. Other groups will be organized independently or may meet spontaneously.

You can start thinking now about forming a small group for the occasion, in which you know you will feel comfortable emotionally, politically and strategically. We'll call these "affinity groups". But of course this is not a prerequisite. We will take advantage of the Rayonnantes camp to offer moments to create affinity groups for people who come alone or in small groups.

In addition to that, we plan to propose during the camp, before the actions: artivism workshops to color our processions, the re-discovery of certain modes of collective travel, legal briefs, preparation moments for affinity groups, etc.

Developing a common political culture

Some reflections and our proposals to make this diversity and complementarity of tactics possible! t-shirt

We wish that the different strategies and modes of action be implemented with the idea of serving and strengthening each other and not serving each other. We invite affinity groups wishing to organize independently to consider carefully the other groups and individuals involved and to try to coordinate as much as possible.
We assume that law enforcement will try to prevent us from achieving our goals. Wherever people are fighting unnecessary, costly, and dangerous projects, the police are an obstacle to resistance. Their behaviors are unpredictable, especially toward racialized people. There are different approaches to overcoming, circumventing, or dismissing this obstacle. But in our vision of these actions, it does not represent a target in itself.
The struggle against CIGEO and nuclear power has been going on for a long time in the territory and with its inhabitants. These gatherings of a few days wish to come in support of this and to be part of a long term local dynamic.
We wish to be in solidarity with each other and refuse any public dissociation from other groups and tactical choices. It is between us that the debates and the sincere confrontations of our different opinions will be important and necessary for the construction of our struggles. We hope that these indications and proposals will help to instill a common and constructive energy in the rallies. This text will be a source of debate, we will create spaces for exchanges on this subject to take place during the camp. For a diverse and determined opposition to the Cigéo project, meet from August 20 to 23 near Bure or from August 16 on the camp of Rayonnantes to prepare ourselves collectively!

---
Posters

Poster in english (for printing)
Call for queer block for Les Rayonnantes

We relay the call published here (in french)

"For all queerxs,

We, queers of the cities and queers of the fields, invite you to join our anti-nuclear families at the Rayonnantes camp from August 16 to 26 near Bure (55).

It is announced on the program a space and workshops in chosen queer mixity. Let's take advantage of it to meet, get together and organize.

French colonial nuclear power has always destroyed everything and continues to destroy through its uranium mining, its nuclear bomb tests and its radioactive waste. In Algeria, from 1960 to 1966, the French army carried out 17 nuclear tests in the Algerian South on the sites of Reggane and In Ekker, then buried the waste without giving the locations. The peoples of the Pacific, and in particular of the atolls of Mururoa and Fangataufa, concrete islands that underwent 193 subterranean, marine and surface nuclear tests between 1966 and 1996, demonstrated in Papeete (Tahiti) on July 2 to demand the removal of radioactive waste. Without forgetting the peoples suffering from uranium mining and the abandonment of radioactive waste in Niger, and in the countries of Central Asia today.

More than five decades of nuclear production have produced thousands of tons of radioactive waste that no one in the world knows how to neutralize.

In Bure, a small village in the Meuse region of France, the largest industrial project in Europe is being prepared: a large nuclear waste dump that would consist of digging 275 km of underground tunnels (equivalent to the Paris metro) to concentrate in one place and bury 500 meters underground the most dangerous waste produced by French nuclear activities since 1960. The State is selling us the dream of a geological storage without any risk for the next 100,000 years (yes, that's it!). By "solving" the waste problem, it can continue its nuclear production and the construction of new power plants!

In support of the people who have suffered from French nuclear power for decades, we propose to join thefestive and determined gatherings from August 20 to 23 around the camp.
As queer people, we consider nuclear power to be the symbol of a world we reject. So let's get together, let's create our spaces, let's give ourselves the strength to fight together, let's appropriate the anti-nuclear struggle, let's propose our self-managed workshops, let's form blocks that look like us, disguised, glittery (or not), determined…!

Come and speak out against nuclear power and support the people who suffer from it from August 20 to 23 near Bure!

We can even meet at the beginning of the Rayonnantes camp, on Monday 16th!

We're queer, anti-nuclear, proud and motivated!"

Saturday August 21 at 10am, rendez-vous at Horville-en-Ornois !

We relay the call published here (in french)

Hey Andra, watch out: we are on the right track!

Saturday August 21 at 10am, rendez-vous at Horville-en-Ornois !

The national agency managing radioactive substances and waste (Andra) recently released its public utility declaration (DUP) concerning the Cigéo nuclear waste burial project in Bure and its related works.

In September, the masquerade of the public inquiry resumes!

Thirty years ago, Andra said it was only doing a laboratory, today it talks about renovating the railway to later see Castor trains transporting nuclear waste. Year after year, she buys up the farmland and takes over the businesses while financing public lighting for the "well-being" of the residents. But streetlights for whom? If Cigéo is built, the whole region will become a nuclear desert.

So bim bam boom! As in 2000 we camped in front of the laboratory's construction sites, as in 2005 we made ourselves heard during the Public Inquiry, as in 2016 we tore down the wall that enclosed the Bois Lejuc, as in 2017 we tore down Andra's fences, as in 2019 we celebrated our future victory in front of the lab, we will go out this summer with more than one trick up our sleeve.

From August 21 10:00am,come to Horville*, at the festiv and motivated gathering to counter advanced of Andra. The place is accessible by wheelchair, bicycle, unicycle, scooter, strollers. During the walk there will be breaks to avoid getting too tired.

Talk about it around you and bring what you want! Flyers, banners, speeches, drinks, songs, tandem, decorations, puppets, giant monster or any other surprise.

We are not fooled!

There are also other things happening at the end of August around Bure: the antinuclear camp les Rayonnantes from August 16 to 26 on the site of the La Gare in Luméville-en-Ornois! More info at : www.rayonnantes.org

* Horville-en-Ornois is located in the southern Meuse (Grand Est, France), 9 km from Bure. It is a village that lies on the route of the railroad that Andra wants to renovate in order to transport the waste to the downspout where it would be brought underground.

To come, the closest station are in Joinville and Neufchâteau.

Flyer to download : flyer format 2xA4 (in french)
Monday evening 23: full moon party against land grabbing

The fight against CIGEO is also a fight for agricultural land and the defense of our territories against projects that do not consider that they need the informed and enlightened consent of the inhabitants of these sacrificed areas.

Everywhere in the world, agricultural land is being taken over by capitalist projects that no longer allow farmers to live in dignity. Here too, ANDRA is using force to expropriate farmers from their land in order to build the related installations of Cigéo (roads, railroads, parking lots, high voltage transformers, quarries, water supply and reservoirs…). The nuclear industry is taking over land in Bure as elsewhere. And transforms the rural territory into its own deadly image. With what consequences for local agriculture and its farmers?

Several times will be dedicated to the subject at Les Rayonnantes

Wednesday afternoon on the camp, there will be a moment of exchange with farmers and other people who are committed to these issues there. In the evening, the film "Nuclear Cattle" on the consequences of the nuclear accident of fukushima on livestock will be shown.
On Thursday, there will be participatory workshops all day at the "Semeuses", a market gardening collectivesowers

And don't forget to be there MONDAY NIGHT, so we can celebrate against land grab.
:

On Monday night under the full moon, we will be able to view the magnitude of the expropriation in progress, dance, sing, and celebrate what we have experienced together in the previous days!

(If you haven't already done so, we advise you to go and see the detailed program, you will see in particular that there are several times of exchange, discussion, action planned on the subject, in particular with companerxs from Mexico who defend their territory against EDF wind projects!)